The demand for remote developers has steadily increased with the rise in remote work as a preferable work model across industries. In addition, technological advancements and the anticipated recession knocking on the door of the world markets have pushed businesses worldwide to hire remote engineers, technicians, artists, developers, and workers.
However, despite remote work making inroads across all major industries, having a reliable platform to hire technically sound a remote talent that resonates with your culture still sounds like a far-fetched idea. In the aftermath, remote staffing agencies and platforms have sprung up across the internet proposing the best solutions for your remote hiring requirements. But how do you know whether or not they are justifying their claims?
Well, we have got you covered. Will have done the hard part for your already. This article will present a comprehensive list of the top 20 sites to hire remote developers from. These platforms have been carefully curated based on their reputation, user-friendly interfaces, and the quality of developers they offer. Whether you are a startup, small business, or large enterprise, this list will provide various options to find the perfect remote developer for your project.
Top 20 Sites to Hire Professional Remote Developers
As we already have buildup, it is a brainer competing in the current digital marketplace; finding the right platform to hire individual remote developers can be game-changing for the success of your project. So here is, as promised earlier, a curated list of the top 20 sites that offer excellent sites/platforms to connect with talented remote developers.
Aspired.io - Top Pick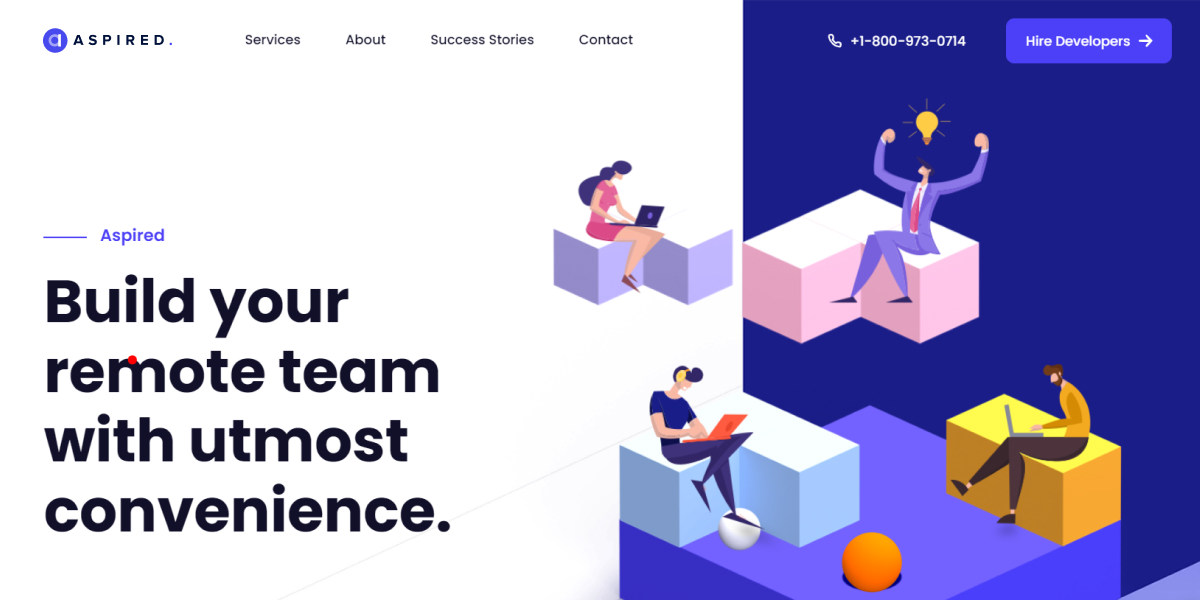 Aspired is a reliable platform that connects businesses with highly skilled remote developers. What sets Aspired.io apart is its unique value of the framework. It includes Aspired's dedicated vetting process, robust quality infrastructures, and the bulk of non-billable resources. No matter what is the size of your business, Aspired will always make sure that they match your requirements with top-tier talent to bring you a step closer to your business goals.
Additionally, Aspired offers a personalized matching system, where they take the time to understand your project requirements and match you with developers who possess the specific skills you need. The platform also emphasizes transparency, allowing you to communicate directly with the developers and provide real-time project progress updates. If you are looking for top-quality remote developers who are handpicked based on your requirements, Aspired.io is an excellent platform to explore.
Upwork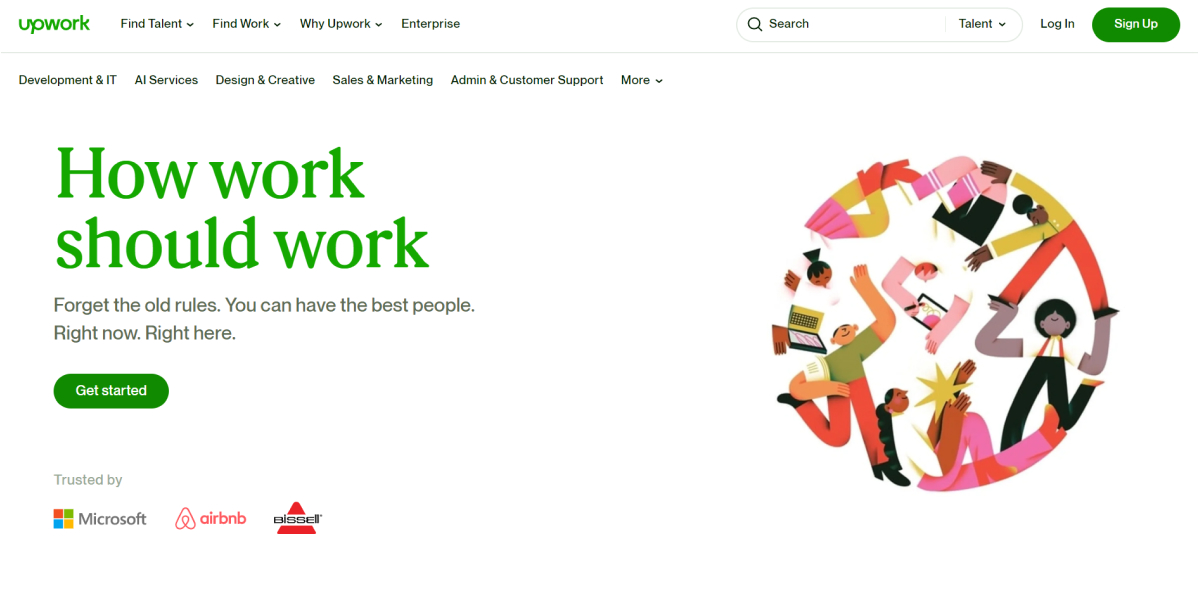 Upwork is undoubtedly one of the most renowned platforms for digital nomads and remote workers. With millions of registered freelancers, it offers a vast talent pool from various backgrounds and skill sets. The platform's user-friendly interface makes it easy to post job listings and filter through potential candidates. Upwork also provides comprehensive profiles for each developer, showcasing their experience, portfolios, and client feedback.
In addition, the extensive filtering options allow you to narrow down your search based on specific criteria such as programming languages, experience level, and hourly rates. Whether you need a front-end developer, a mobile app developer, or a full-stack developer, Upwork offers a diverse range of talent, making it an ideal platform for finding remote developers.
Toptal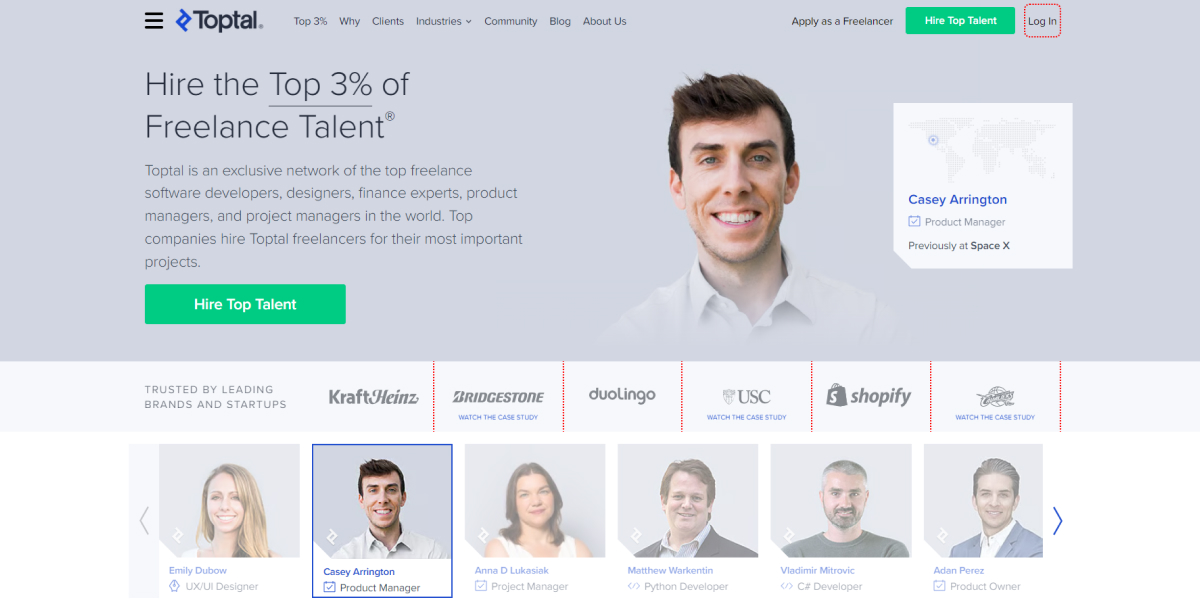 When hiring top talent, Toptal is a platform that stands out. Their rigorous screening process ensures you are connected with the top 3% of developers. Toptal's comprehensive screening includes tests and interviews to evaluate technical, problem-solving, and communication skills. By maintaining a highly selective process, Toptal guarantees that you have access to top-notch developers who have proven their expertise.
Whether you need developers for short-term projects or long-term collaborations, Toptal offers a wide range of expertise across various programming languages and frameworks. In addition, their focus on quality and talent makes them a trusted platform for finding exceptional remote developers.
Freelancer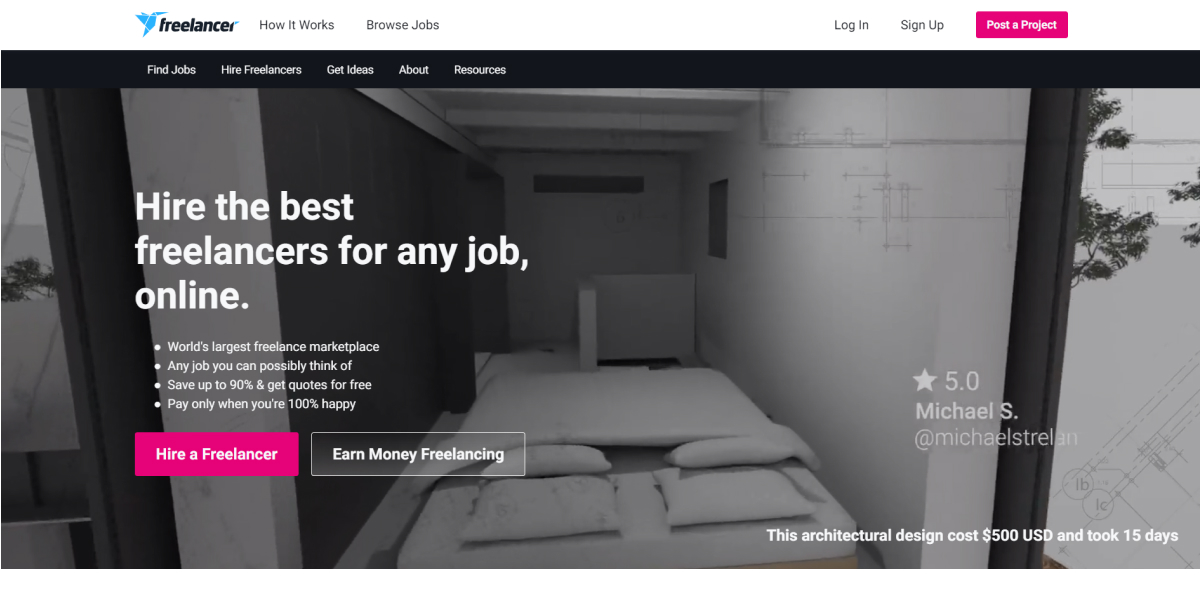 Freelancer is a platform that boasts a large freelancer community and a global reach. With millions of registered users, the platform offers a diverse pool of remote developers worldwide. This allows you to find developers with specific skill sets and expertise tailored to your project requirements. One of the key advantages of Freelancer is its competitive pricing options. You can set your budget for a project and receive bids from developers willing to work within that range. This allows you to find developers that meet your budgetary needs without compromising quality.
Additionally, Freelancer provides project management tools that facilitate seamless collaboration between you and your hired developers. These tools include messaging systems, milestone tracking, and file-sharing capabilities, ensuring effective communication and project progress monitoring. With its extensive freelancer community and project management features, Freelancer offers a reliable platform for hiring remote developers.
Guru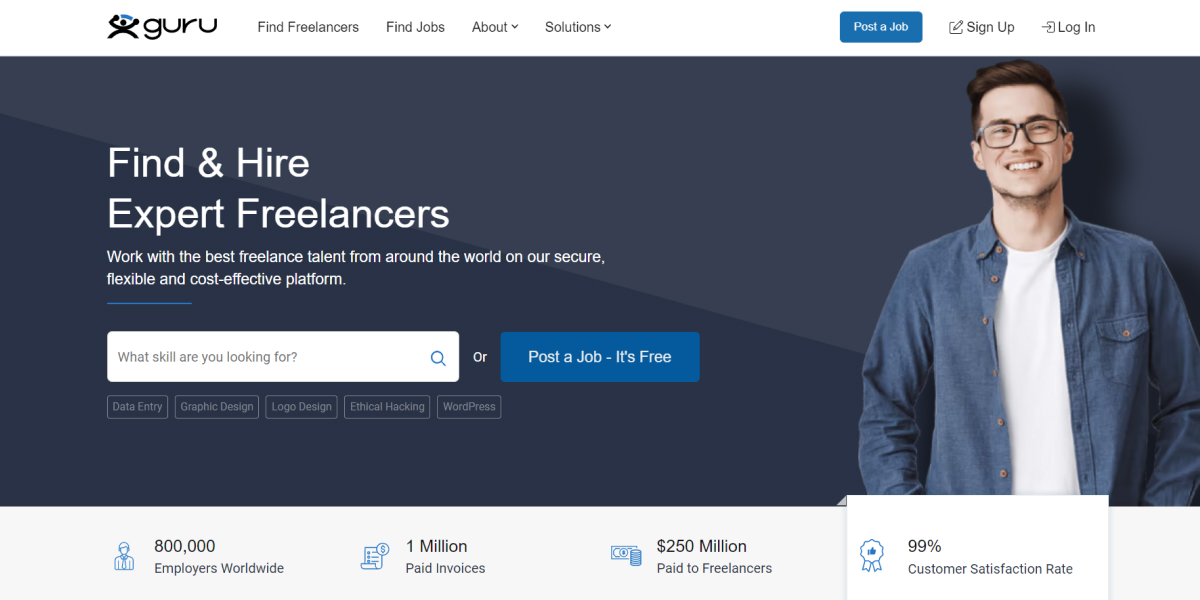 Guru is a user-friendly platform that stands out for its robust freelancer vetting process. The platform ensures that freelancers go through a thorough screening to verify their skills and expertise. This gives you the confidence that the developers you hire from Guru possess the required qualifications for your project. Guru also offers flexible hiring options, allowing you to hire remote developers hourly or for fixed-price projects. This flexibility caters to the specific needs of your project and budget.
Furthermore, Guru provides workroom collaboration tools that facilitate smooth communication and collaboration between you and your hired developers. These tools include real-time chat, task management, and invoicing features. By providing a user-friendly platform, a rigorous vetting process, and collaboration tools, Guru simplifies hiring remote developers and ensures that you find reliable and skilled professionals.
RemoteOK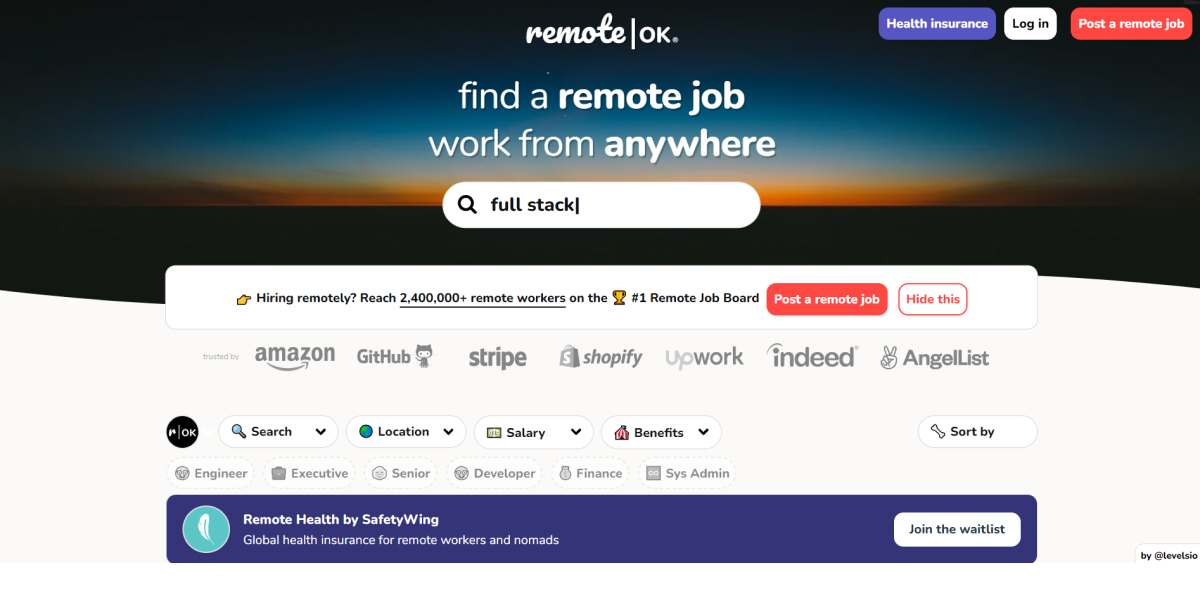 RemoteOK is a platform focusing on remote job listings, including developer roles. This makes it an ideal platform to find remote developers experienced in working remotely and familiar with the challenges and benefits it entails. In addition, the platform offers a simple job posting process, allowing you to post job listings and attract qualified developers quickly.
RemoteOK also provides resources and guides for remote work, offering valuable insights and tips on managing remote teams and fostering effective communication. Whether you need front-end developers, back-end developers, or specialized developers in specific technologies, RemoteOK offers a wide range of talent. With its emphasis on remote work and its easy-to-use platform, RemoteOK is a valuable resource for finding remote project developers.
Stack Overflow Jobs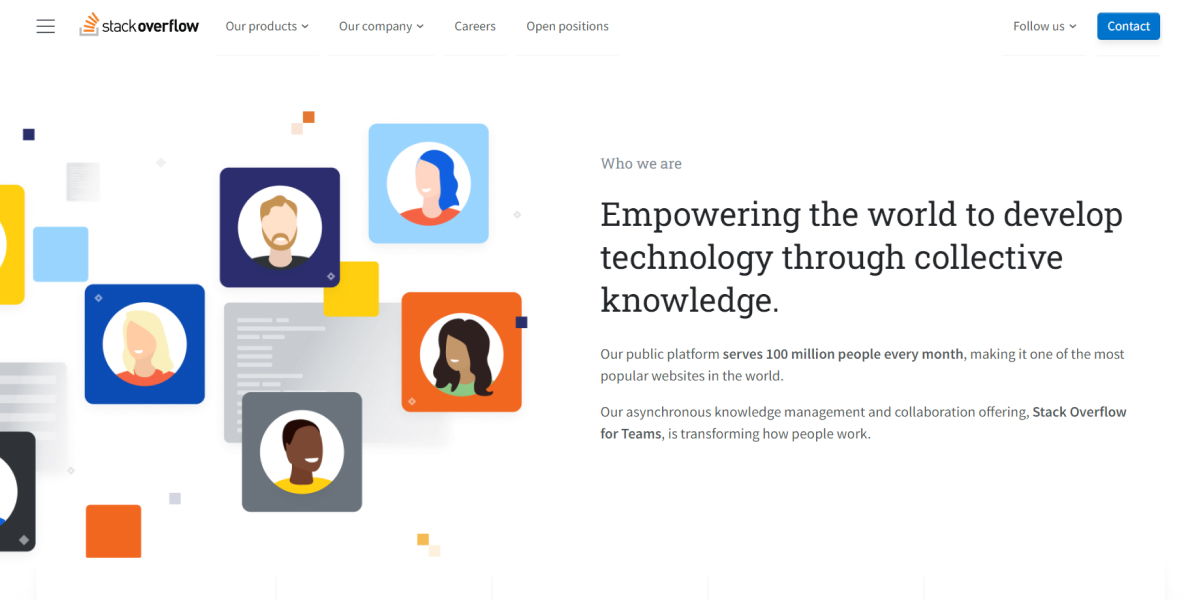 Stack Overflow Jobs is known for its developer-centric community and the job board. With a vast network of developers, the platform attracts top tech talent worldwide. When hiring remote developers, Stack Overflow Jobs provides you with access to a pool of highly skilled professionals who are passionate about their craft. In addition, the platform's reputation as a go-to resource for developers ensures you can find up-to-date talent with the latest technologies and industry trends.
Stack Overflow Jobs offers a seamless job posting process, allowing you to reach a broad audience of developers who actively use the platform. This increases your chances of finding developers who fit your project requirements well. If you are looking to leverage remote talent who is highly knowledgeable and dedicated to their craft, Stack Overflow Jobs is an excellent platform to explore.
AngelList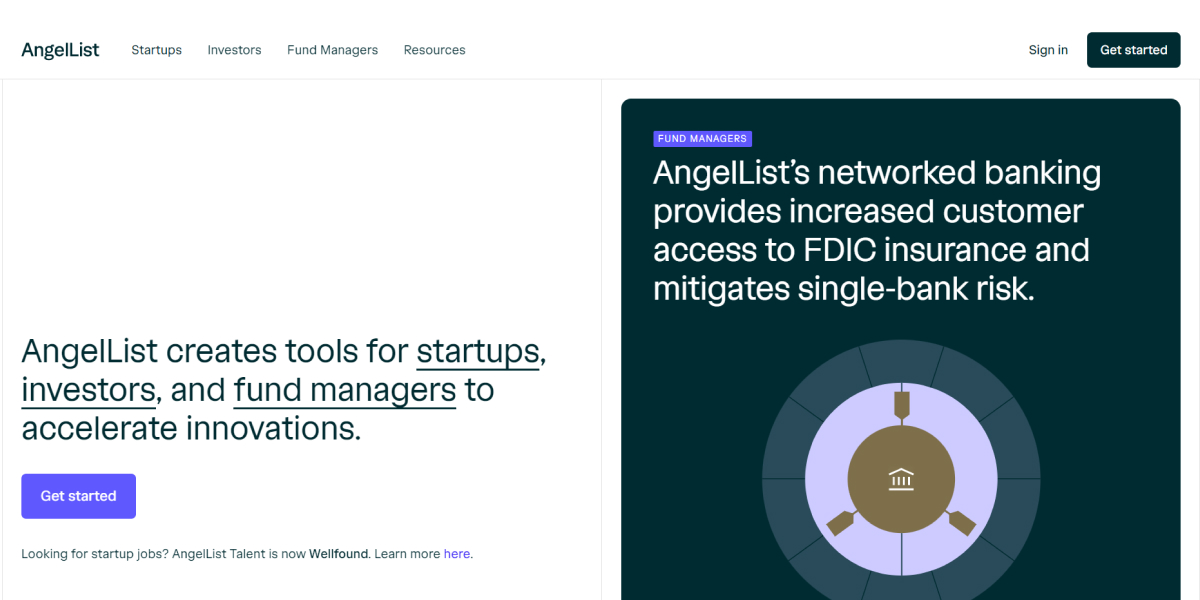 AngelList is a platform that caters specifically to startups and tech companies. It focuses on connecting these companies with talented developers interested in working with early-stage ventures. If you are a startup or a tech company looking to hire remote software engineers and developers, AngelList provides a targeted platform to find the right talent.
The venue boasts a network of talented developers passionate about joining innovative projects. Additionally, AngelList offers company reviews, allowing you to gain insights into the reputation and culture of the companies you are interested in. This helps you make informed decisions when hiring remote developers, ensuring a good fit for your project and company.
GitHub Jobs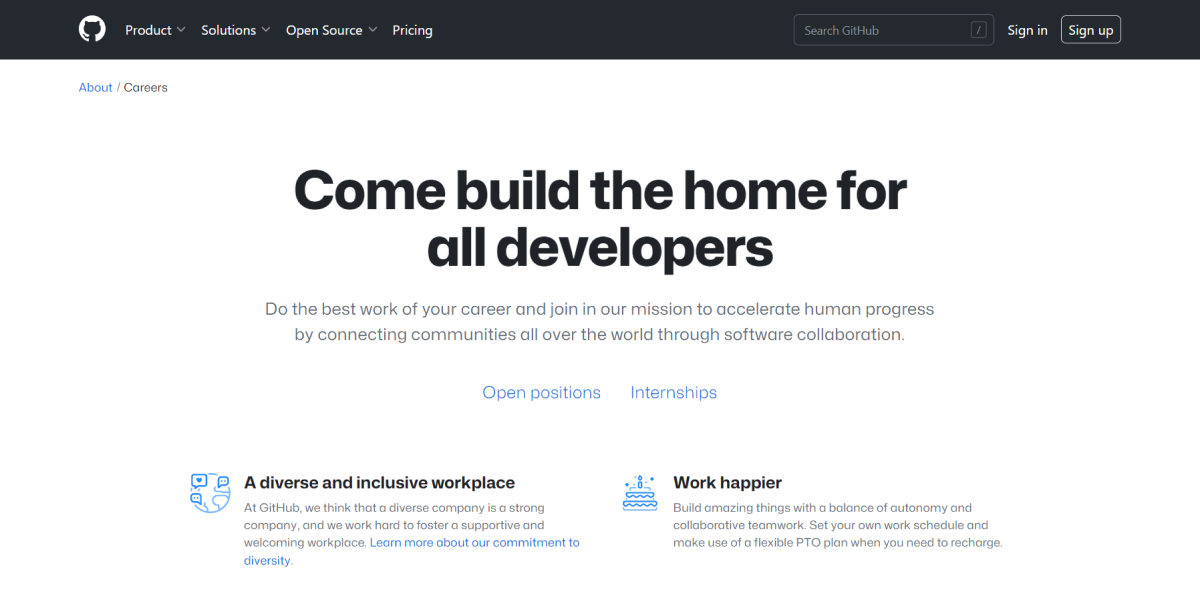 GitHub Jobs is a platform that integrates with the widespread development platform GitHub. It offers a dedicated job board focusing on developer positions and open-source projects. This makes it an excellent platform for finding remote developers with a strong background in coding and collaborating on open-source projects.
By leveraging GitHub's vast community, GitHub Jobs provides access to a wide range of talented developers actively involved in the development community. Whether you need developers for specific programming languages or specialized frameworks, GitHub Jobs offers a targeted platform to find remote developers with the skills you require. GitHub Jobs is a platform worth exploring if you value developers passionate about coding and actively contribute to open-source projects.
Remote.co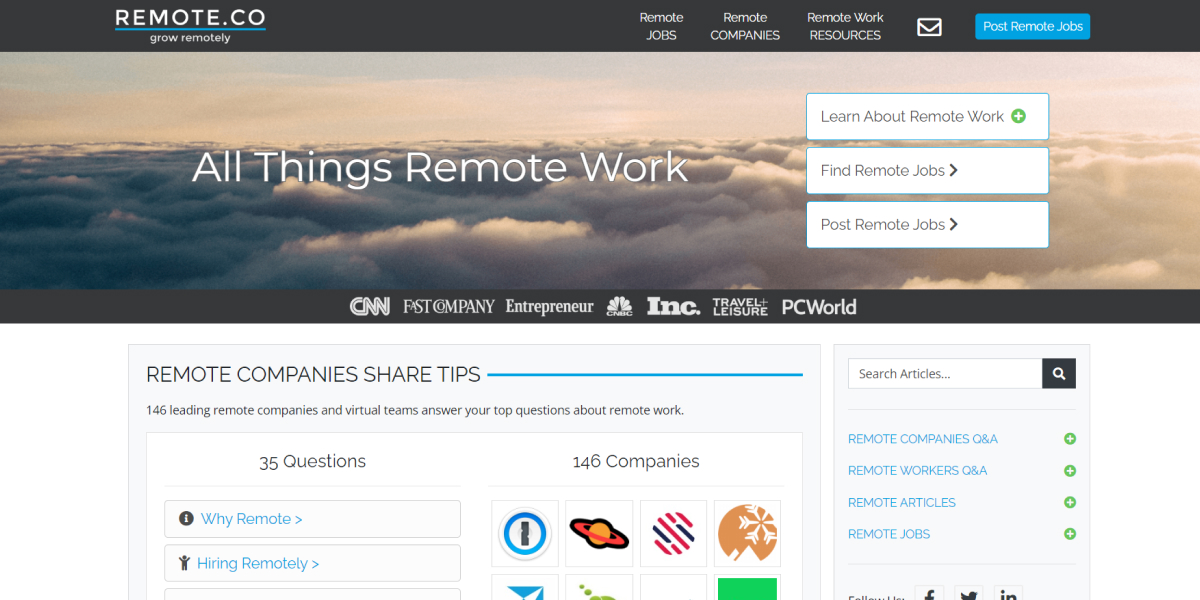 Remote.Co is a platform that offers a curated list of remote jobs, including developer roles. It focuses on the remote work culture and provides resources to help employers and employees navigate the remote work landscape successfully. When hiring remote developers through Remote.co, you can expect to find professionals with experience working remotely and the necessary skills for remote collaboration.
Remote. Co emphasizes the importance of remote work culture and offers insights and best practices for building and managing remote teams. Whether you need front-end developers, back-end developers, or specialized developers, Remote. Co provides a comprehensive platform to find skilled remote talent. Suppose you value remote work culture and are looking for experienced developers, Remote. Co is a valuable resource to consider.
Arc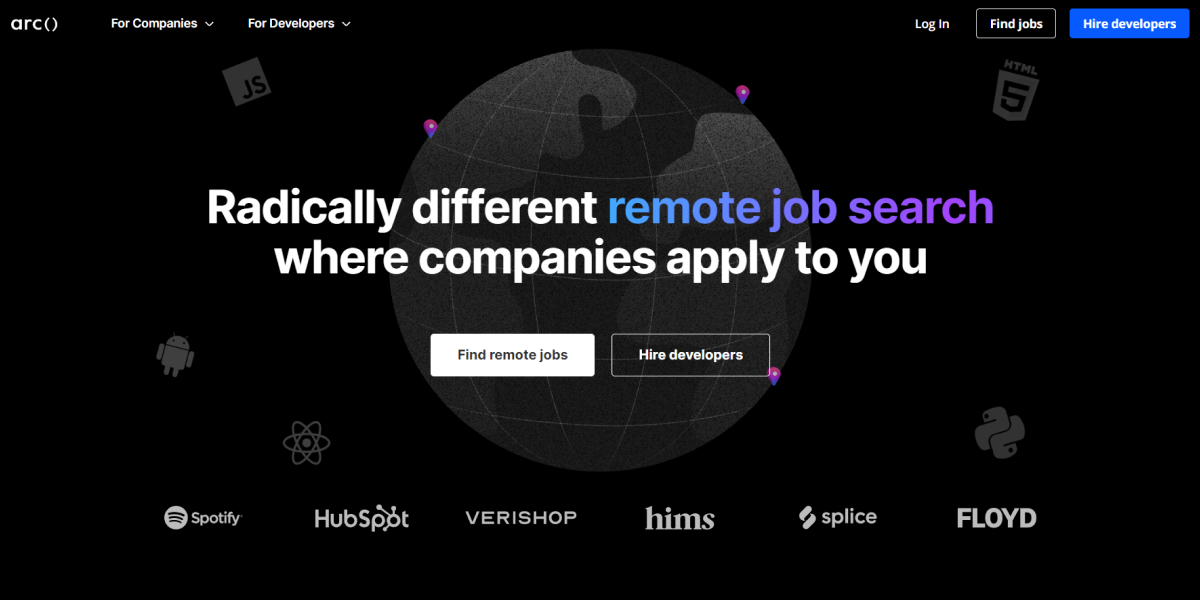 Arc is a platform specifically designed for hiring remote professionals, including developers. It focuses on long-term employment rather than short-term freelance projects. This makes it an ideal platform if you are looking to establish long-term working relationships with remote developers. Arc emphasizes direct communication between employers and hires, allowing for effective collaboration and a deeper understanding of project requirements.
The platform aims to foster strong working relationships and ensure seamless collaboration by facilitating direct communication. Suppose you are looking to recruit remote developers for ongoing projects and prefer direct communication with your hires. In that case, Arc offers is a reliable platform for finding skilled professionals committed to long-term employment.
Remote Year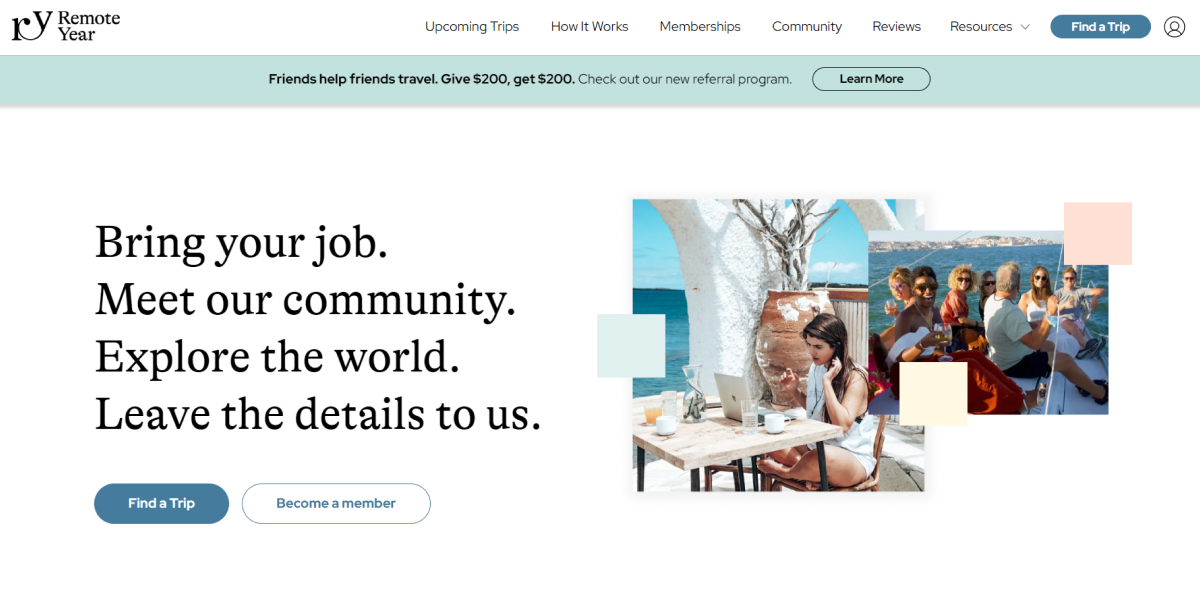 Remote Year is a unique platform that offers a combination of travel and remote work opportunities. It provides a community-based experience where professionals can travel and work remotely in different cities worldwide. Remote Year attracts diverse professionals, including remote developers, who are open to exploring new cultures while maintaining their work commitments.
The platform offers organized travel itineraries, accommodations, and workspaces, ensuring a seamless remote work experience. Suppose you are looking to hire skilled remote developers who are open to embracing new experiences. In that case, Remote Year provides a platform to connect with like-minded professionals who can bring a unique perspective to your projects.
We Work Remotely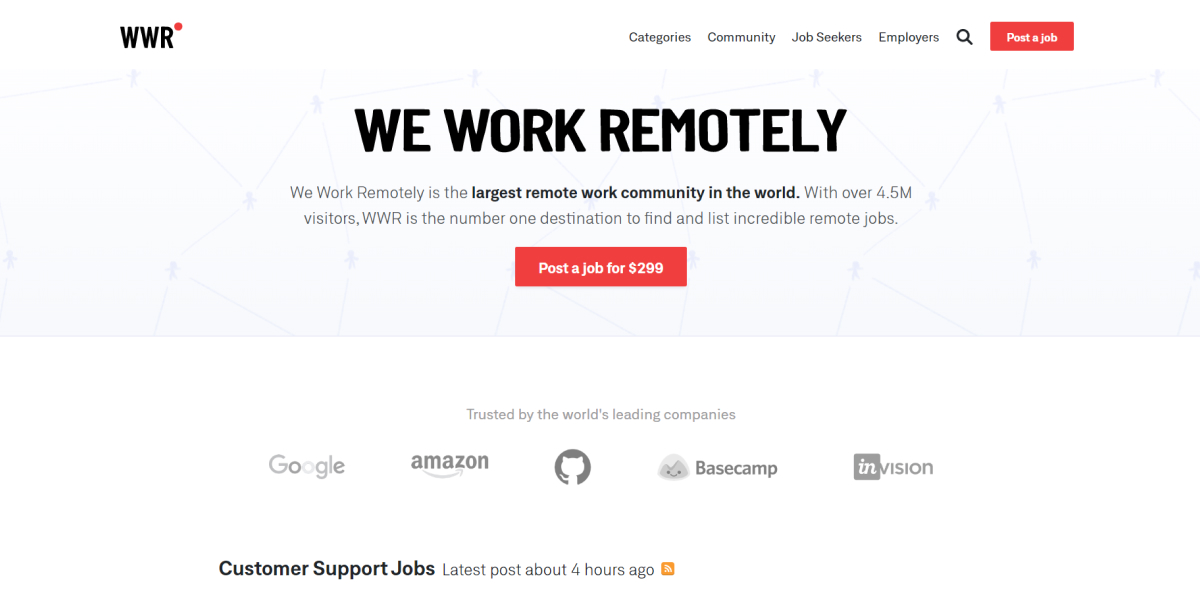 We Work Remotely is a popular job board focusing on remote positions across various industries, including developer roles. The platform has a broad reach and attracts a large number of talented professionals who are seeking remote work opportunities. We Work Remotely offers a straightforward job posting process and provides a wide range of job categories, making finding developers with specific skill sets easy.
In addition, the platform lets you include details about your company culture and work arrangements, attracting developers who align with your values and remote work policies. Suppose you are looking to hire developers for startups who actively seek remote positions and are open to working in diverse industries. In that case, We Work Remotely offers an effective platform to connect with remote talent.
FlexJobs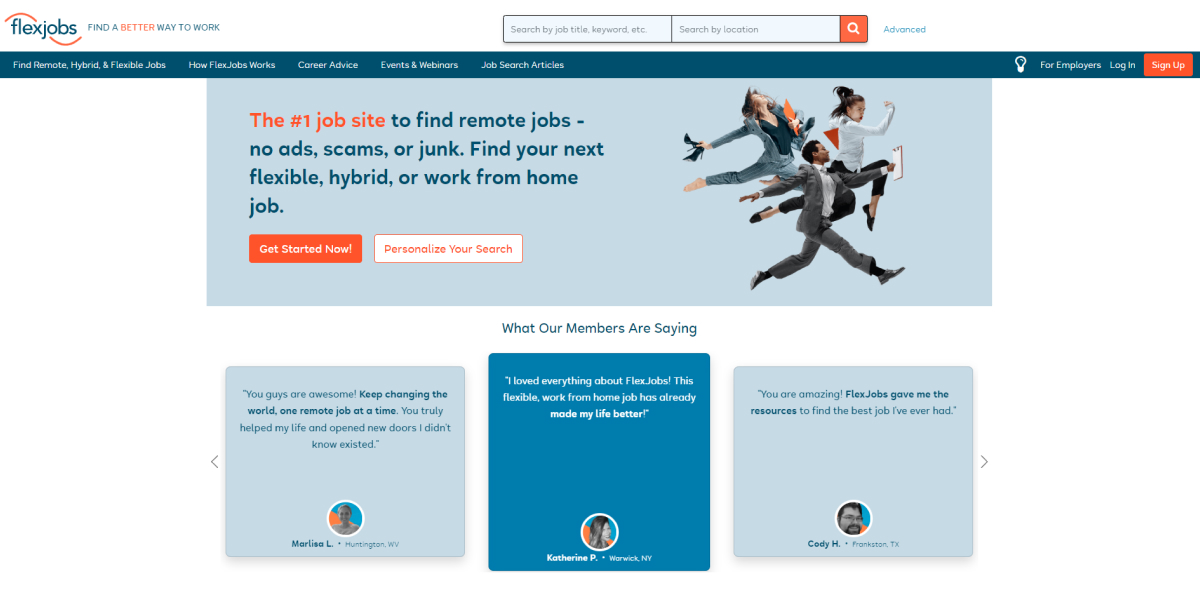 FlexJobs is a reputable platform that focuses on remote and flexible work arrangements. It offers a curated list of remote job opportunities, including developer roles, from various industries. In addition, FlexJobs stands out for its rigorous screening process, ensuring that job listings are legitimate and free from scams. This provides job seekers, including remote developers, with a trusted platform to find legitimate remote work opportunities.
As an employer, FlexJobs allows you to post remote developer positions and connect with a pool of talented professionals who are actively seeking remote work. In addition, the platform provides features such as advanced search filters and personalized job alerts, making finding developers with the specific skills and experience you require access. If you value a trusted platform that focuses on remote and flexible work arrangements, FlexJobs offers a reliable resource for finding remote developers.
Dribbble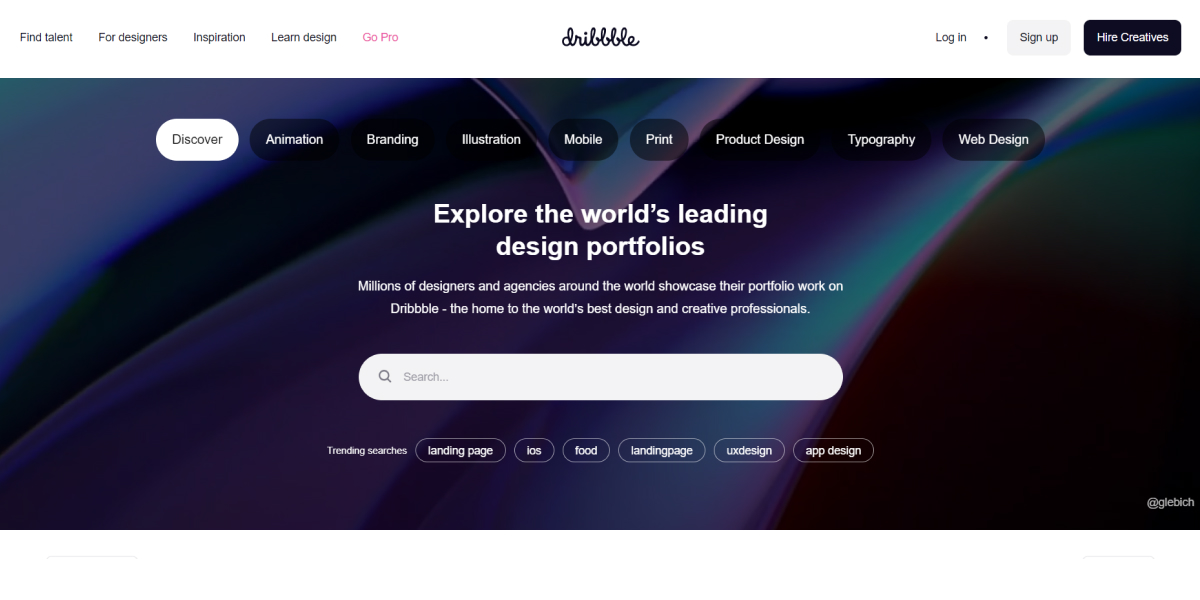 Dribbble is a popular platform primarily focusing on design professionals, including UI/UX designers and front-end developers. While it may not be solely dedicated to remote work, Dribbble offers a robust community of talented designers and developers, many of whom work remotely. The platform allows you to showcase your projects, browse portfolios, and connect with designers and developers with the necessary design skills.
Dribbble's community-driven approach provides opportunities for collaboration and networking with industry professionals. For example, suppose you are looking to add remote developers with a strong design focus to your team or hire dedicated developers who can collaborate effectively with designers. In that case, Dribbble offers a platform to connect with talented professionals with a keen eye for aesthetics and user experience.
Remote.com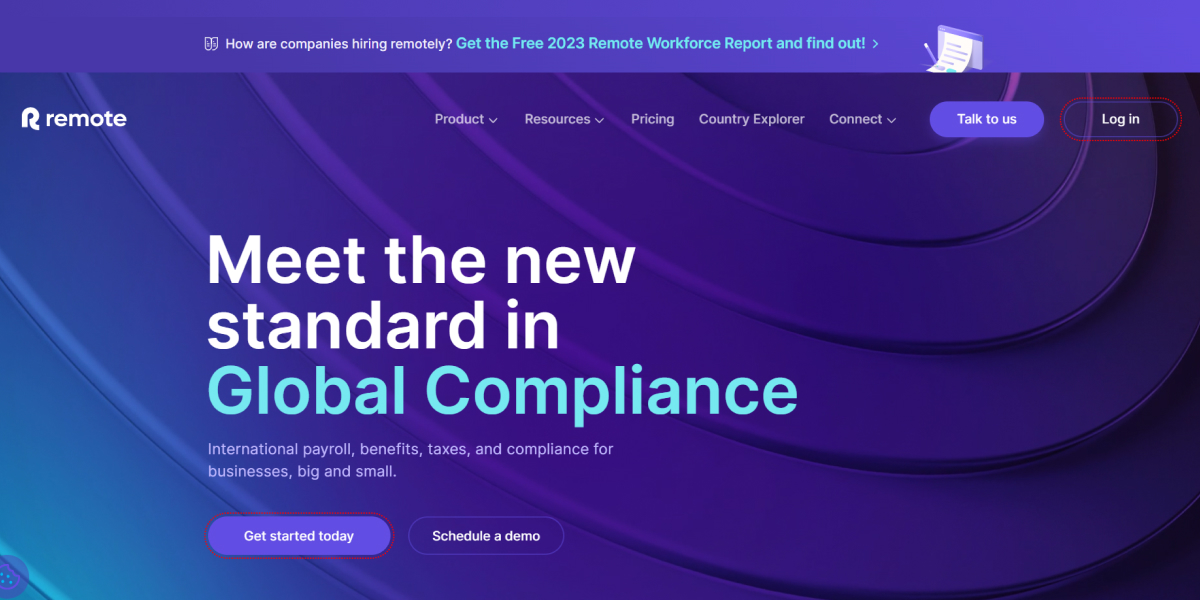 Remote.com is a platform dedicated to remote work opportunities, including remote developer roles. It connects employers with talented remote professionals from various industries, providing a reliable resource for hiring remote developers. The platform offers an intuitive interface that simplifies hiring, allowing you to post job listings and attract qualified developers. Remote.com also provides advanced search filters, enabling you to narrow your search based on specific skills, experience, and location preferences.
With a focus on remote work, Remote.com ensures that you can find developers who are experienced in working remotely and can seamlessly integrate into your remote team. If you are looking for a platform dedicated to remote work opportunities and want to hire remote developers with the necessary skills and experience, Remote.com is a platform to consider.
Gaper.io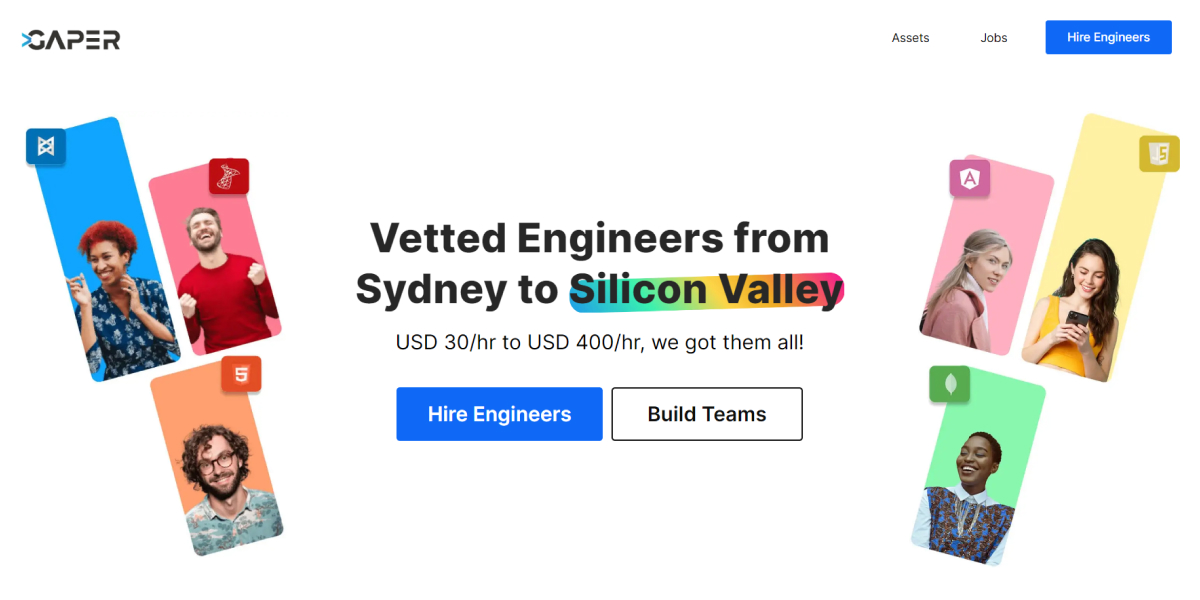 Gaper.io is a unique platform that connects developers with mentors who provide guidance and support on coding projects. It offers various services: mentorship, code review, and live coding help. While Gaper.io is primarily known for its mentorship aspect, it also provides a platform to hire proficient remote developers. Developers on Gaper.io are experienced professionals who can provide expertise in various programming languages and technologies.
By utilizing Gaper.io, you can connect with remote developers who are skilled and have a passion for helping others. Whether you need assistance on a specific project or want to hire a remote developer for long-term collaboration, Gaper.io offers a platform to find developers with specialized knowledge and the willingness to share their expertise.
RemoteTeam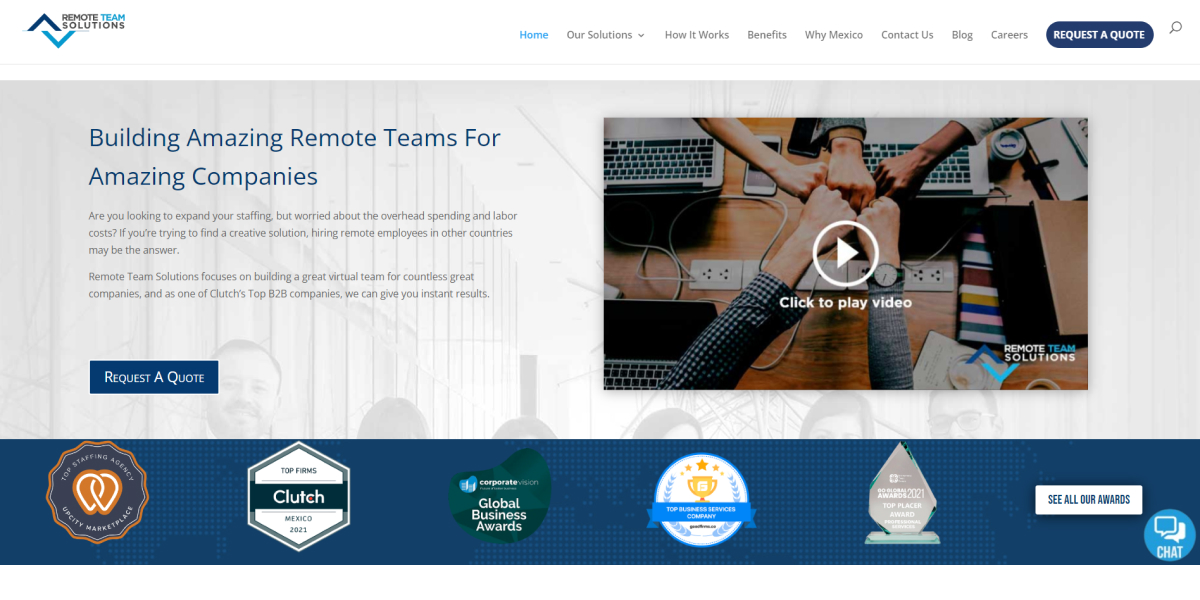 RemoteTeam is a comprehensive platform that simplifies remote team management, including the hiring process for remote developers. It offers a range of features, such as time tracking, payroll management, and communication tools, all designed to facilitate efficient remote team operations. RemoteTeam allows you to post remote developer job listings and manage the hiring process seamlessly. The platform provides access to a pool of talented remote developers, ensuring that you can find professionals who are experienced in remote work and possess the required skills for your projects.
Moreover, RemoteTeam streamlines administrative tasks, such as onboarding and contract management, making handling legal and compliance requirements easier when hiring remote developers. If you value an all-in-one platform that covers the entire remote team management process, from hiring to payroll, RemoteTeam offers a comprehensive solution.
LinkedIn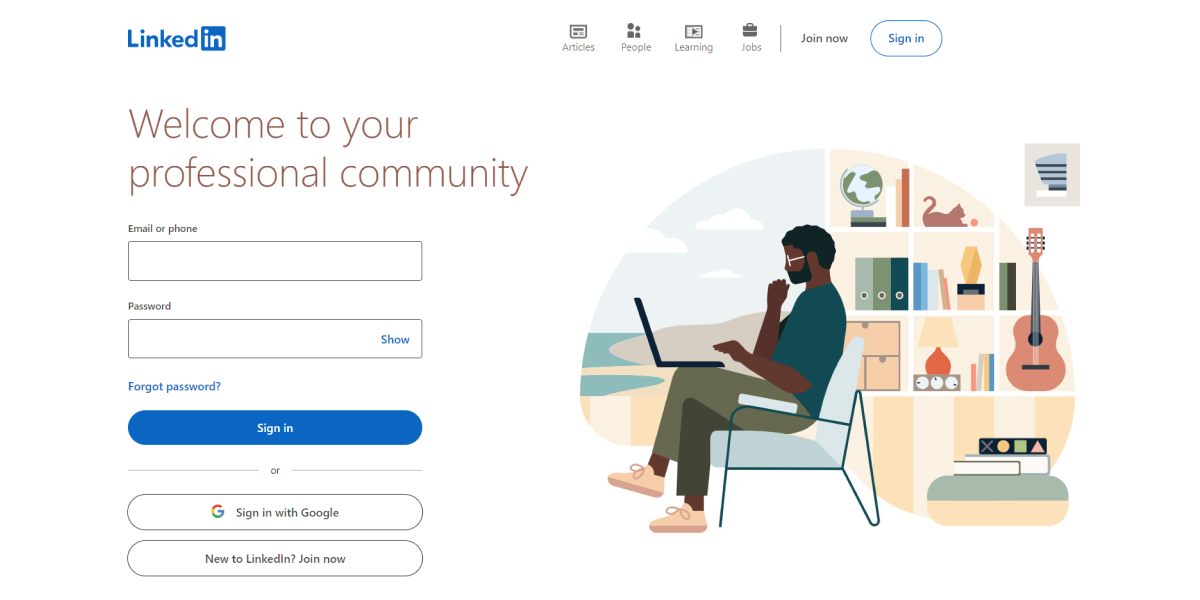 LinkedIn is a well-established professional networking platform valuable resource for hiring remote developers. While it is not solely dedicated to remote work, LinkedIn provides a vast network of professionals actively seeking job opportunities, including developers. By leveraging LinkedIn's advanced search filters and extensive professional profiles, you can identify and connect with remote developers with the required skills and experience.
LinkedIn also allows you to showcase your company's brand, culture, and projects, attracting developers who align with your values and goals. Additionally, LinkedIn offers various community features, such as groups and forums, where you can engage with developers and build connections. If you are looking for a platform with a broad reach and access to a wide range of professionals, including remote developers, LinkedIn offers a reliable resource for finding talent.
RemotePlatz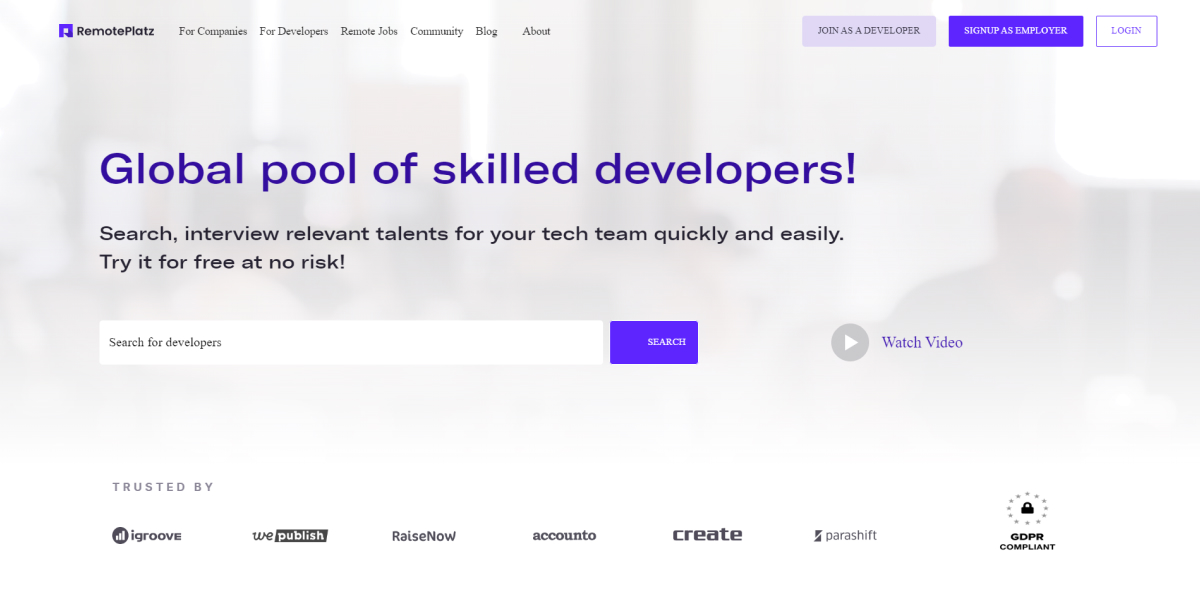 RemotePlatz is a platform that specializes in providing dedicated remote developers for projects. It focuses on assembling high-performing remote teams seamlessly integrating into your existing workflows. RemotePlatz handpicks and vets developers, ensuring that you have access to top-quality talent with the required skills and expertise. By hiring through X-Team, you gain access to a team of developers who are skilled, highly motivated, and dedicated to delivering exceptional results.
also, the platform offers flexible engagement models, allowing you to scale your remote development team based on project requirements. With X-Team, you can expect a collaborative and efficient development process, with ongoing support and management provided by the platform. If you are looking for a dedicated team of remote developers committed to your project's success, RemotePlatzis is a reliable choice.
The Pitfalls of Hiring Remote Developers from Inappropriate Sources
While hiring remote developers could prove game-changing for your business, remember that remote hiring is a double-edged sword. Imagine investing your company's valuable resources in your highly aspired remote team and ending up risking your project deliverables and doubting your potential clients. But, of course, no business owner would love to be in that situation.
So, if you thought hiring remote developers was a bed of roses, here is what happens when hiring your remote resources from an unreliable platform.
Inexperienced Teams
The most significant key risk of hiring remote resources from inappropriate sources is the possibility of working with inexperienced teams. While providing opportunities for growth and learning is crucial, relying solely on inexperienced developers can lead to subpar results. Lack of expertise and knowledge can result in delayed deadlines, inefficient code, and compromised quality assurance. Therefore, organizations must carefully evaluate remote developers' skill sets and experience levels before hiring.
Confused Project Scope
When hiring remote developers from the wrong place, there is a higher likelihood of encountering confusion regarding project scope. Miscommunication and misunderstandings can arise due to language barriers, different work cultures, or varying interpretations of requirements. Such confusion can lead to missed project milestones, frequent revisions, and wasted resources. Ensuring effective communication channels and establishing clear expectations from the outset is essential to minimize these risks.
Lack of Cultural Fit
Building a cohesive and productive team requires more than matching technical skills. Cultural fit is vital in ensuring collaboration, synergy, and shared values among team members. Hiring remote developers from an inappropriate source can result in a lack of cultural alignment, making integrating them into existing teams challenging. In addition, differences in work ethics, communication styles, and problem-solving approaches can hinder effective teamwork, reducing productivity and conflicts.
Higher Risk of Poor Delivery
Hiring remote developers without proper vetting increases the risk of poor project delivery. Developers who lack accountability or fail to meet deadlines can significantly impact project timelines and overall success. In addition, remote teams may not have the same level of oversight and supervision as in-house teams, making it crucial to evaluate potential candidates' work ethic and reliability thoroughly. By neglecting to do so, organizations expose themselves to the risk of missed milestones, dissatisfied clients, and reputational damage.
Uncertainty and Lack of Trust
Working with remote developers from the wrong place can create a sense of uncertainty and lack of trust within an organization. Without a clear understanding of remote developers' capabilities, commitment, and integrity, doubts may arise regarding their ability to deliver quality work. This uncertainty can erode confidence in the remote team and impede effective collaboration. Building trust is essential for seamless remote work, and organizations must establish robust hiring processes and ongoing communication channels to foster transparency and reliability.
Hiring remote developers can bring benefits, but putting your eggs in an unreliable source can put your business through a set of difficulties and setbacks. These consequences might range from inexperienced teams and unclear project scopes to a lack of cultural fit and increased risks of poor delivery.
The aim for your business should be to devote your valuable time and resources to rigorous candidate evaluation and provide a transparent communication channel. This leads us to our next section, which talks about and encourages cultural alignment to reduce these risks. Factors to consider while hiring remote development teams.
Things to Consider While Hiring a Remote Development Team
Now that you have read enough about the best sites to hire remote development teams and know the pitfalls of hiring remote resources from unreliable places, you must be wondering what exactly one should do to end up on the right side. It starts with creating an approach and clearing your mind before aiming for a successful partnership.
Here is what all has helped businesses achieve optimal results while hiring remote development teams:
Define Your Project Requirements Clearly
Before starting the hiring process, it is essential to have a clear understanding of your project requirements. Document your goals, objectives, and deliverables in detail. This will help you communicate effectively with potential offshore teams and evaluate their ability to meet your project's needs. Clearly defining your requirements will also assist in establishing realistic timelines and budgets.
Assess the Team's Expertise and Experience
When evaluating offshore development teams, consider their expertise and experience in your industry and technology stack. Look for teams that have successfully completed similar projects and have a track record of delivering high-quality work. Request portfolios, case studies, and client references to gain insights into their capabilities. A team with relevant expertise will understand your business context better and be able to provide valuable input and suggestions.
Communication and Language Skills
Effective communication is crucial for the success of any offshore collaboration. Ensure that the team you hire has excellent communication skills and is proficient in your preferred language. Language barriers can lead to misunderstandings and delays, so it's essential to have a clear line of communication. Consider conducting video interviews or meetings to assess the team's language proficiency and communication abilities.
Time Zone and Cultural Compatibility
Offshore development teams are often in different time zones. While this can be advantageous for round-the-clock development, it's essential to ensure sufficient overlap in working hours for effective collaboration and communication. Additionally, consider the cultural compatibility between your organization and the offshore team. A shared understanding of work ethics, values, and business practices can create a more harmonious partnership.
Quality Assurance and Project Management
To ensure the success of your project, inquire about the offshore team's quality assurance processes and project management methodologies. Look for teams that follow industry-standard practices such as Agile or Scrum, as these methodologies promote transparency, flexibility, and iterative development. Additionally, discuss their approach to testing, bug tracking, and code reviews to ensure that quality is maintained throughout the development lifecycle.
Security and Intellectual Property Protection
rotecting sensitive data and intellectual property should be a top priority when hiring an offshore development team. Enquire the team's security protocols, data encryption practices, and confidentiality agreements. Ensure that they have robust measures in place to safeguard your information. It is also advisable to consult legal experts and draft comprehensive contracts that address intellectual property rights and ownership.
Scalability and Flexibility
Consider the long-term scalability and flexibility of the offshore development team. Your project's requirements may change over time, and it's crucial to have a team that can adapt to those changes seamlessly. Inquire about the team's ability to scale up or down as needed, their availability for ongoing support and maintenance, and their willingness to accommodate changing priorities.
Pricing Structure and Contracts
While cost savings are often a significant driver for hiring offshore teams, it's essential to understand the pricing structure and terms of the engagement. Evaluate whether the team's pricing aligns with your budget and explore any hidden costs that may arise. Additionally, carefully review the contracts and agreements, ensuring they cover all the necessary aspects of the partnership and provide a clear framework for collaboration.
Since hiring a remote development team is a crucial decision for your business, it takes some serious consideration and planning to make the most out of it. Following those mentioned above, practical and tried-and-tested tips can increase your business's chances of finding the right development team that aligns with your business goals and helps you hit the gold.
But if you cut the long short and walk the road to success without going through potential
vulnerabilities, we have good news for you. Aspired has emerged as a go-to option for businesses of all sizes to offer remote staffing solutions.
Wonder how Aspired will provide you with the best-fit resources for your project requirement every time you visit them? Let's find out.
How Aspired Managed to Provide Tailored Remote Development Solutions for Businesses of All Sizes
In today's rapidly evolving business landscape, technology plays a pivotal role in determining the success and growth of organizations. However, many businesses, especially those with limited resources, struggle to find the right talent and expertise to develop and maintain their digital infrastructure.
This is where Aspired steps in, offering tailored remote development solutions for businesses of all sizes. Through its innovative approach and commitment to client satisfaction, Aspired has become a trusted partner for companies worldwide. Let's delve into how they have managed to provide such effective solutions.
Understanding the Diverse Needs of Businesses
Aspired recognizes that every business is unique and has distinct requirements for remote development solutions. Therefore, they begin by thoroughly understanding their client's goals, challenges, and needs. Next, they gain valuable insights into the business processes, existing infrastructure, and long-term objectives by conducting in-depth consultations. This understanding forms the foundation of their tailored solutions, ensuring they align perfectly with each client's requirements.
Building a Global Network of Skilled Professionals
To provide high-quality remote development solutions, Aspired has established a vast network of skilled professionals from around the globe. They have carefully curated a diverse team of developers, designers, project managers, and specialists in various technologies. This global talent pool enables them to match the right experts with the specific needs of each project, ensuring that clients receive top-notch solutions tailored to their requirements.
Flexible Engagement Models
One of the key strengths of Aspired is its ability to adapt to the varying needs of businesses. They offer flexible engagement models that cater to organizations of all sizes. Whether a client requires a dedicated development team, a project-based approach, or individual experts to augment their existing team, Aspired has the capabilities to deliver. This flexibility allows businesses to scale their remote development efforts according to their current demands without the need for long-term commitments or unnecessary overhead costs.
Embracing Remote Work Culture
Aspired has embraced the remote work culture and leveraged its benefits to provide exceptional development solutions. By eliminating geographical boundaries, they can tap into a global talent pool and assemble the most qualified teams for their client's projects. Remote work also enables Aspired to offer competitive pricing, reducing overhead expenses associated with physical office spaces and allowing for greater operational efficiency. Moreover, this approach fosters a work environment that promotes innovation, collaboration, and productivity among distributed teams.
Focus on Communication and Collaboration
Effective communication and collaboration are vital for successful remote development projects. Aspired strongly emphasizes establishing clear communication channels and fostering collaboration between their teams and clients. They utilize various communication tools and project management platforms to ensure seamless coordination, regular updates, and transparent workflows. By keeping clients involved throughout the development process, Aspired ensures that the final solutions meet their expectations and align with their business goals.
Quality Assurance and Support
Delivering high-quality solutions is a top priority for Aspired. They have a rigorous quality assurance process, including thorough testing, code reviews, and continuous improvement. Adhering to industry best practices and standards ensures that the solutions they develop are robust, scalable, and secure. Additionally, Aspired provides ongoing support and maintenance services to ensure the solutions' long-term success and stability, offering their clients peace of mind.
With its innovative staffing strategies and robust quality infrastructures, Aspired has managed to be a reliable development and staffing solution provider for businesses of all sizes. By understanding their diverse needs and building a global network of skilled professionals, Aspired offers flexible engagement models, embracing remote work culture, emphasizing communication and collaboration, and focusing on quality assurance and support.
Wrapping Up
In the dynamic business landscape of 2023, no digital businesses can strive for sustainable success without including remote teams in their ranks. However, with the risks and challenges of hiring remote workers from unreliable platforms, connecting your businesses with rightly skilled professionals worldwide takes a crucial strategy. In the above write-up, we explored the top 20 sites to leverage top-notch remote developers in 2023, providing businesses of all sizes with diverse options to find the right talent for their projects.
These platforms offer comprehensive features such as flexible engagement models, global talent networks, transparent communication channels, and quality assurance processes. They understand the unique needs of businesses and aim to provide tailored solutions that align with their requirements. By leveraging the benefits of talented remote developers and tapping into a global talent pool, these sites empower businesses to access top-notch development expertise while maintaining cost efficiency.
Whether you're a startup, a small business, or a large enterprise, these platforms offer a wide range of options to handpick remote developers that fit your specific needs. With their expertise and commitment to quality, these sites have become reliable partners for businesses looking to expand their digital capabilities and stay ahead in today's competitive market.