Covid-19 pandemic forced several organizations across the World to hire remote working teams. The idea proved to be successful even today as it helps boost productivity, increase agility, reduce overall project development costs, and continue smooth operations. Thus, the demand for adept, experienced, and dedicated autonomous delivery teams has increased. Autonomous delivery teams are professionals comprising expert developers, engineers, product managers, UI/UX designers, quality assurance specialists, etc., assigned to carry out a software development project exclusively for an external organization. The extended team model is an extension of an in-house team in which onshore and offshore teams partner to carry out a project more transparently.
GoodFirms, the most sought-after B2B platform, and highly trusted software listing company, recently recognized Aspired as the Best Company to Work With. Having its main base in Karachi, Pakistan, the Company also operates from Florida and Dubai; it helps organizations hire and build the best and most experienced remote working teams to carry out Blockchain, Web 2.0, Web 3.0, Mobile App Development, and Game Development projects efficiently.
For 2023, Aspired has been Named as the Best Company to Work With by GoodFirms
If you are searching for talented and highly skilled remote-working developers from the best mobile app development company or planning to extend your in-house team for a specific project, you can trust Aspired. Apart from mobile application developers and engineers, organizations can hire blockchain developers, DevOPS engineers, game-developing specialists, quality assurance engineers, data scientists, and many more. With the consideration of all such achievements, GoodFirms has identified Aspired as the Best Company to Work With and placed it under top firms for Java Development in the Leaders Matrix program.
"We foster a high success ratio which averages a 97.3% client satisfaction ratio & a 97.6% average client retention, actively working with world-renowned brands across verticals, from startups and SMBs to Fortune 500 companies," says the company.
Aspired - Strengths and Vision
As a 'leading tech-savvy remote agency,' Aspired helps to create a skilled remote workforce with complete transparency through 100% visibility on logged works. It follows high-quality vetting standards where resources are subject to a rigorous assessment to determine whether the candidate is technically and culturally fit for the post with a proven experience of 5-7 years in the relevant field.
Aspired offers two pricing models, Remote Plus Team at $3,000 per month and Remote Elastic Team at $3,500 per month, containing several features.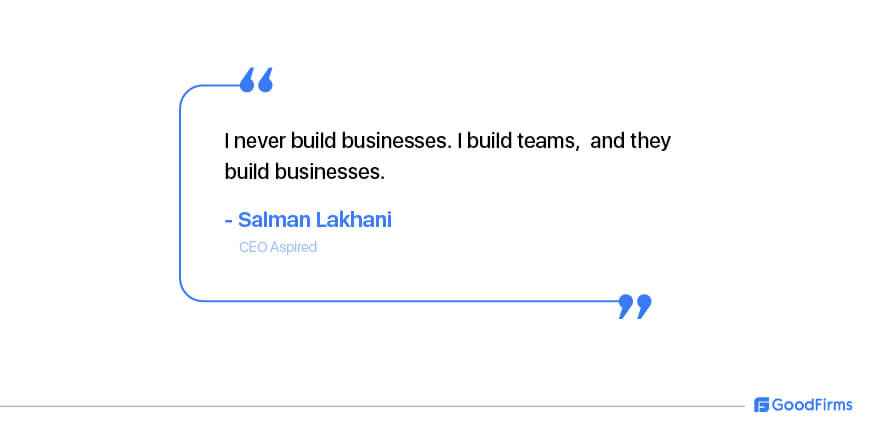 Aspired helped assemble a Magento Development team comprising 11 members for a popular e-commerce platform that involved Magento developers, DevOPS and quality assurance engineers, and a project manager. Similarly, it helped another Spanish client efficiently align its resources for developing a mobile application that could help customers reserve tables at their favorite restaurants.
"Aspired provides a unique value pipeline to its clients in that we build focused teams of talent empowered by our 'Framework of Value' that enables businesses to thrive with minimal overhead utility," says the company.
Here are a few reviews about Aspired

Why is Aspired the Best Company to Work With
For a company to gain a top spot in its category, it must provide value-based products or services to its clients with a focus on building solid infrastructure. This is what Aspired has been doing since its inception in 2020. The company meticulously carries out all the HR-related tasks, such as selecting the best employee remuneration, payroll, employment laws, etc. Regardless of the team size hired, each allocated resource can leverage their collective knowledge bank to resolve complex & time-sensitive problems fast and efficiently.
One of the prime elements distinguishing Aspired from others is its superior software architecture and consolidated infrastructure powered by a value-driven framework, expert design review committee, and ethical hackers, says GoodFirms.
About the "Best Company to Work With" Badge
"Best Company To Work With" is an exclusive program run by GoodFirms. The Leaders Matrix companies are recognized with a Badge, an exclusive article about the Company, and a supporting PR. Such recognition stands as a support to developing trust and authenticity within the B2B community. It also allows the participating companies to improve their ranking - rank higher in the Leaders Matrix categories, receive inbound backlinks from the GoodFirms LeadersRoundtable podcast campaign, and get a certified Badge saying, "Best Company to work with."
About GoodFirms
GoodFirms is a B2B research, review, and listing platform helping businesses accelerate their digital journey and maximize modern technology's value. The company connects service providers with service seekers through a comprehensive and thoroughly researched fact-based list of the best services and solutions. Recognized as the most reliable source for the B2B market, GoodFirms has world-class experience with partners across the globe.